ERU Slices Cheddar Naturel
Our hygienically and individually packaged cheddar slices have a creamy, soft structure and melt easily and quickly. The cheese has a deliciously full flavour. Serve your guests a delicious hamburger, toastie or nacho dish with the tastiest cheddar slices!
Delicious and handy, the slices of cheddar cheese by ERU
The cheddar slices melt in no time and are very easy to use in dishes. This makes sure that you can serve your guests very quickly! Because the slices are individually packed, you can use the amount of slices you need in an hygienic way.
The cheddar slices quickly enhance many dishes. Hamburgers and toasties are the most obvious, but our cheddar is also delicious in casseroles or an omelette. Discover our versatile and tasty ERU Slices Cheddar Sambal too.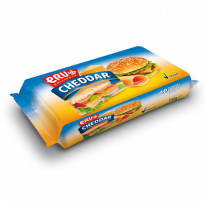 Nutritional value per 100 gr
Energy (kJ)
1163
Energy (Kcal)
280
Fats (g)

Of which saturated
22

15
Carbohydrates (g)

Of which sugars
2,5

2,5
Proteins (g)
18
Salt (g)
2,8
Available in 750 gram packaging
Discover our delicious recipes
Discover our recipes
Discover our recipes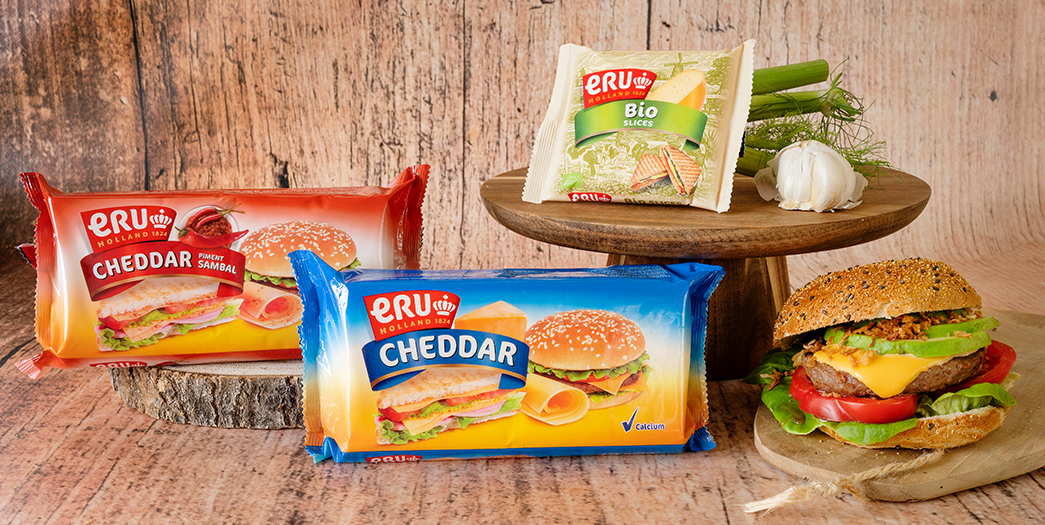 Discover the quality cheeses of ERU
Prepare
ERU cheeses are ideal for adding flavour to your dishes. Try our ERU Cheese Spreads to make sandwiches, toasties, paninis and loaded fries or to enhance your s...
See our other product categories