With our full, creamy ERU Cheese Spreads, you can quickly prepare the tastiest meals for your guests. Our cheeses are already melted, so ideal for using in a stamppot mashed potato dish or pasta.
Rocket stamppot with melted extra aged cheese and beef meatballs
Surprise your guests with an unusual stamppot, the likes of which they have never tasted. The addition of ERU Cheese Spread Gouda Extra Aged gives this rocket stamppot with melted cheese and meatballs a creamy, full flavour.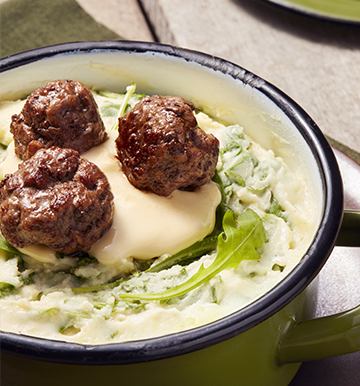 Moules au Bleu
Serve a variation of traditional mussels with our Moules au Bleu. The mussels are cooked in a savoury melted Roquefort sauce. The cheese sauce with ERU Cheese Spread Bleu provides a refined and subtle flavour.
Pasta primavera with salmon and Gouda cheese sauce
Prepare this quick and easy pasta primavera dish by adding ERU Cheese Spread Gouda Light. The light cheese spread adds a soft and creamy texture to the pasta. Serve your guests this colourful dish in moments.